A new software for modeling and detailing steel structures
TSteel 3D is a new, affordable structural steel detailing and 3D modeling software for steel detailers and structural engineers. Powerful, flexible, and comprehensive, TSteel 3D is ideal for reducing costs without losing productivity.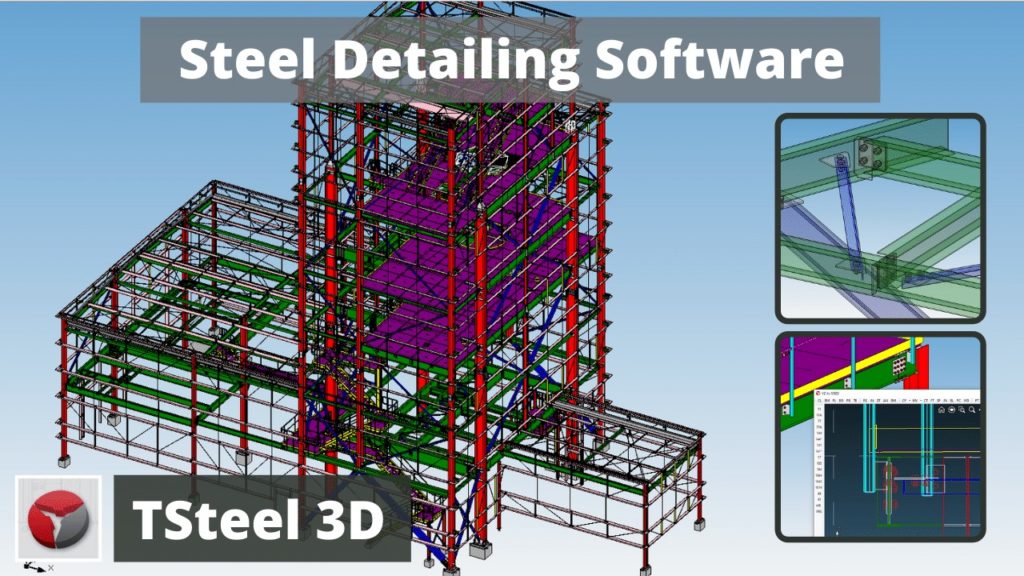 TSteel 3D is BIM compatible and imports from and exports to other leading applications. This interoperability promotes effective communication among all stakeholders throughout the whole supply chain. From structural engineering to field erection, TSteel 3D increases efficiency and lowers the risk of errors.
Main Features
TSteel 3D is in constant development, prioritized by the needs and demands of its users. Here are some features that make TSteel 3D a complete and affordable software for all companies' types and sizes in the industry.
Developed on a powerful graphics platform, it handles heavy models with ease, reducing hardware investment.
Its intuitive interface makes the learning process quick and easy.
Industry Foundation Classes (IFC) compliant makes it a competitive player in the BIM market.
Bidirectional interoperability with other leading applications allows collaborative work and information sharing.
When coworking, all modifications made on the TSteel 3D model can synchronize with the Tekla® model.
The macros library for connections, base plates, and handrails speeds up the detailing process by saving drawing time and effort.
It has an API that allows users and third-party developers to implement their macros and improvements using C#.
For some applications such as checking and field erection, TSteel 3D offers the Free Viewer version, which works as a free steel detailing software.
Do not require any other software license to run.
Applications
There are virtually no limitations on the types and sizes of structures that TSteel 3D can model. It is easy and intuitive to work with and can detail from a simple connection plate to more extensive and more involved works as offshore structures.
Use TSteel 3D to detail residential and commercial buildings and industrial structures in any industry, as chemical, oil and gas, paper and cellulose, and mining.
Compatibility and Interoperability
Create and maintain 3D models and share them with other leading software on the market, such as AutoCAD®, SAP2000®, and Tekla®.
Main platforms that TSteel 3D exports to and imports from:
TSteel 3D values and fosters cooperation among teams and professionals, independently from the tool they need or their client requests. Our software is in constant improvement. If you do not see your needs covered, do not hesitate to contact our Support Team to see the best way to address them.
Industry Foundation Classes – IFC
Industry Foundation Classes, or IFC, is the most common format in Building Information Modeling (BIM) projects.
Steel Detailing Neutral File – SDNF
SDNF is a text file format to exchange data of steel structures among applications that support it. The information is written sequentially in both fixed and free formats.
DWG – Drawing
DWG is a binary file format used by several CAD packages, including AutoCAD®, BricsCAD®, DraftSight®, and IntelliCAD®, among other Open Design Alliance compliant applications.
S2K – SAP2000®
S2K is a text file format used by SAP2000®, a structural and earthquake engineering software from Computers & Structures, Inc., to import, export, and store the model information.
Tekla® Connect
Tekla® Connect is a TSteel 3D internal routine to import from and export to Tekla®, by Trimble Inc.